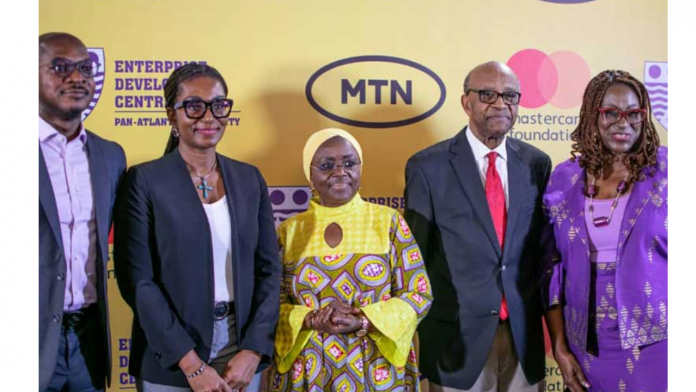 MTN Foundation, in its unwavering commitment to bolstering the growth and sustainability of small and medium-sized enterprises (SMEs), has embarked on the next phase of its impactful Y'ellopreneur initiative. This inclusive program is tailored to empower female entrepreneurs within the SME sector, equipping them with the skills and knowledge required for their career advancement and business success.
The Executive Secretary of MTN Foundation, Odunayo Sanya, emphasized that the Y'ellopreneur initiative is firmly aligned with the United Nations Sustainable Development Goals (SDGs). She underscored MTN Foundation's role as a significant contributor to Nigeria's socio-economic development, expressing a strong commitment to moving the nation forward.
Building on the success of the previous year, the Y'ellopreneur initiative maintains its strategic collaboration with the Enterprise Development Centre (EDC) of Pan-Atlantic University. This partnership aims to provide impactful capacity-building sessions for the selected participants, shaping their entrepreneurial journey and fostering sustainable growth.
However, to extend the reach and impact of this initiative even further, MTN Foundation has introduced a virtual training component. In partnership with the Mastercard Foundation's Transforming Nigerian Youth (TNY) initiative, virtual training sessions will be extended to an impressive 20,000 female entrepreneurs. Nneka Okekearu, the Program Director of Mastercard Foundation, emphasized the scale of the endeavor, envisioning access for millions of young Nigerians within the next five years.
Nneka Okekearu noted that MTN Foundation's endeavors are closely aligned with addressing five key Sustainable Development Goals (SDGs). Acknowledging that impactful change requires a collective effort, she emphasized that the private sector plays a pivotal role in achieving these global goals. MTN Foundation's empowerment initiatives act as catalysts for possibilities, opportunities, and the future.
During a fireside chat that delved into the significant contributions of female entrepreneurs to the economy and the necessity of their proper representation, Founder of Exponential Hub and EDC Consultant, Fayo Williams, shared valuable insights. Williams revealed that each of the selected participants would be thoughtfully paired with a consultant. These consultants would play a multifaceted role in their entrepreneurial journey – shaping their mindset, guiding them toward effective business models, facilitating access to funding, and introducing them to new market spaces and potential partnerships for growth.
Reflecting on her personal experience as a trainee under an EDC program, Williams highlighted how the training and support provided by EDC had propelled her participation in global projects. She emphasized EDC's pivotal role as a knowledge partner and conduit for Business Development Service (BDS) providers from diverse backgrounds across the country. Williams concluded on a determined note, underscoring EDC's commitment to handholding and empowering women entrepreneurs to overcome gender biases and challenges in their pursuit of success.